Sciatica Ayurvedic Treatment
Sciatica Ayurvedic treatment includes five or more options for a temporary sciatica pain relief. A long standing cure of sciatica is also possible by a guided food habit, life style and medicament and Ayurveda Panchakarma treatment. After all the options include-
Surgery-  Surgery is not a very good option, as most of the time surgery is performed close to the spinal chord.
Non surgical manipulation
Medicine
Physiotherapy
Alternative medicine.
Folk medicine
Home remedies etc.
Although Ayurvedic treatment comes under alternative medicine, it has its own stance in the field of treatment of sciatica.
Sciatica Natural Home Remedies

In modern medicine system, oral medicines are prescribed. They include NSAID ( non steroidal anti inflammatory drugs), analgesic, muscle relaxant, steroids etc.
The local therapy includes heat to cold fomentation, chiropractics etc. Sciatica Ayurvedic Treatment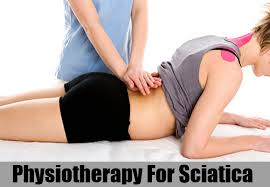 Folk medicines and home remedies for sciatica are numerous, like taking garlic, Turmeric, castor oil, local bandage of leaves, oil massage etc. Sciatica Ayurvedic Treatment
Physiotherapy is also a good option. But it has its own limitation. It is a non medicinal treatment. Breaking the pathogenesis of the disease is not possible with physiotherapy only. However it is one of the best complementary to any sciatica treatment.
Sciatica Ayurvedic Treatment
Ayurvedic treatment for sciatica gives stress over pacification of Vata dosha. The treatment includes analysis and assessment of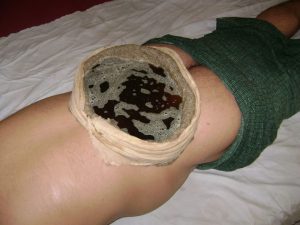 Site of involvement
Associated dushya (affected tissues)
Status of Vata
Prakriti (Nature of patient)
Age
Sex
Physical and Mental Strength
Adaptability (Acceptability)
The treatment is comprised of food habit, life style, medicament, therapy etc. Balancing the imbalanced dosha and pacifying the symptoms of sciatica is achieved. The syndromes and complications of sciatica are also manged.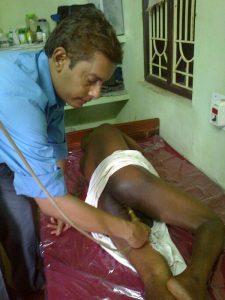 The younger the patient, the fresher the disease, the better is the result of Ayurveda Panchakarma treatment. As soon as the symptoms manifested, the treatment should be started. Otherwise that leads to an advanced stage with numbers of complications. A quick ayurvedic treatment prevents the prolapse of the intervertebral disc PIVD and restores the health.
Mostly non-surgical treatment is adopted by Ayurveda for the sciatica treatment. Sometimes blood letting therapy is advised for the same.
Sciatica Treatment at Astang Ayurveda
Astang Ayurveda is a specialized Ayurvedic hospital for Joint care and Neuro Care. We provide a protocol based Ayurvedic treatment for sciatica. For that the patient has to come to the hospital with a prior appoint. He should get all his previous treatment records with him. At the out patient department he has to meet the doctor for consultation. He may be advised for internal medicine or Ayurveda Panchakarma treatment.
For the best Sciatica Treatment at Astang Ayurveda call in +91-9437055021.
Written by: Dr A P Nayak on 29.8.2016
You can Contact our Astang Ayurved hospital at Bhubaneswar, India 751020 phone @ 07008176012, 09437055021, 0674-2352797 or email to @ drapnayak@gmail.com, info@astangayurveda.com.