Ulcerative Colitis | Symptoms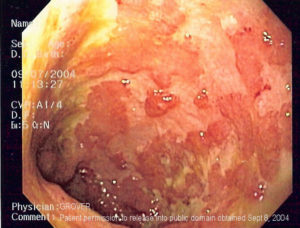 The phrase Ulcerative Colitis indicates the inflammation of colon or large intestine. This takes place because of the metabolism disorder. When the inflammation exaggerates small sores take place on the mucus layer of the colon. These small sore lead to ulceration. That is called Ulcerative Colitis. It is confined to the colonial area. some times it extends up to sigmoid colon and rectum. It is tough to find a cure for the disease. The prime symptoms include frequency of stool with blood, weight loss and anemia.
Ulcerative Colitis Symptoms
Ulcerative Colitis Symptoms are many. They can be classified as gastrointestinal and extra intestinal types. The intestinal Ulcerative Colitis Symptoms are

Loose motion
Frequency of motion ( Twice to thirty times a day- from a patient at our hospital)
Blood with stool
Passage of only blood through rectum
Mucus with stool and blood
Burning sensation in anus
Burning pain
Abdominal pain
Bloating sound
Loss of appetite
Sense of constipation
Sense of Tenesmus
The extra intestinal Ulcerative Colitis Symptoms includes
Anemia
Malnutrition
Anemia
Fever
Trachycardia
Aphothous ulcer of mouth
Inflammation of parts of eye
Inflammation of small joints ( seronegative arthritis, Ankylosing spondylitis etc)
And many more.
The doctor may observe elevated ESR, CRP, Platelet Count. The disease is diagnosed by colonoscopy, Endoscopy, X-Ray etc. A differential diagnosis may be required for the Ulcerative Colitis diagnosis. Because it mimics other disease as follows.
Crohn's disease
Infectious colitis (Local infection)
Ischemic colitis (Less blood supply to colon)
Radiation colitis ( Radiation over pelvic area)
Pseudomembranous colitis (After effect of over use of antibiotics)
It is observed from the above discussion that Ulcerative Colitis is a physiological dysfunction of the digestive system. The derailed metabolism process give rise to the disease. The  patient complains of blood with stool. The other colitis are the inflammation of the colon due to local or external reasons.
Written by: Dr A P Nayak on Dt 12.10.2016
You can Contact our Astang Ayurved hospital at Bhubaneswar, India 751020 phone @ 07008176012, 09437055021, 0674-2352797 or email to @ drapnayak@gmail.com, info@astangayurveda.com.
Ulcerative Colitis | Symptoms