Pancha Karma treatment means five treatments those include Vaman, Virechan, Anuvasan Vasti, Asthapan Vasti and Nasya Karma associated with many other ancillary treatments. All these treatments look very simple. Of course they are simple as they are achieved through the natural path. Obviously they are practiced in many Ayurvedic hospitals. But point to be noted: it is not important just, to perform pancha karma, it is important to eliminate toxin, cure disease, not to create another disease or complication and perform pancha Karma with proper traditional and scientific guidelines.
Manzal kizhi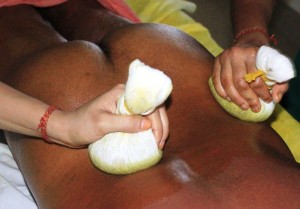 Manzal kizhi is a special Keralian swedana karma (sudation therapy). It repairs and nourishes the damage and degeneration of nerve plexus. It is highly beneficial in management of spondylosis, PIVD, sciatica, stenosis etc.
Basically it is understood that Manzal kizhi is hired from the Keralian Marshal Art called Kallari Payetu. During the practice of Kallari Payetu there is maximum chance of spine injury. That is why an expertization was developed among the Vaidyas working with Kalari Payetu.
Manzal kizhi is named after the presence of Manzal (Turmeric) among other herbs in the packet. It is a marma chikitsa.
You can Contact our Astang Ayurved hospital at Bhubaneswar, India 751020 phone @ 07008176012, 09437055021, 0674-2352797 or email to @ drapnayak@gmail.com, info@astangayurveda.com.
Best Manzal kizhi treatment in Bhubaneswar