Ayurvedic Skin Care
Ayurvedic Skin doctor in Bhubaneswar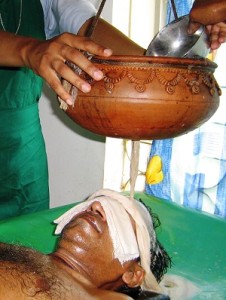 For the treatment of allergy and skin diseases like psoriasis, eczema, vitiligo, dermatitis we practice traditional Ayurveda panchakarma treatment Bhubaneswar at Astang Ayurveda with a specialized approach to the disease, the cause, the signs and symptoms, the diet and nutrition and the Ayurvedic medicines which brings success to the doctor and happiness to the patient.
But we will like to enlighten over a fact that Ayurveda and Astang Ayurveda believe in treating the patient not the disease.
Skin is the largest organ of the body. It covers the whole body. It is the seat of Akash mahabhuta (ether). Skin is the index of mind. It reflects the mental state as well as the physical state.
What is Ayurvedic management of allergy?
What is diet and nutrition for skin care?
For example a feared child looks white, an anemic patient looks white, a man with anger looks red, a girl when blush with happiness looks red, a diseased person looks black.
A healthy skin not only speaks about a healthy human being, but also from the cosmetology point of view it speaks about a good personality.
Click here for Allergy Management
Skins are not different by anatomy, but different in nature, looks and texture. A dermatologist come across different types of skins like glowing skin, dry skin, oily skin, cracked skin etc.
It is very important for a skin specialist to study the nature of the skin while performing a skin treatment.
There are a good number of skin clinic in the world. Skin doctors, skin specialist, dermatologist, and people of different high sounding designation work for skin care. But the skin diseases are going up day by day. Lots of Ayurvedic medicines, skin cream are avail in the market.
But combinedly the skin doctor and the patient fail to have a good skin care.
The reason is very simple. The skin specialist just looks for the signs and symptoms of the skin disorders and prescribe some antibiotics, anti allergic drugs, steroid and topical skin cream. Most of the skin doctors never enter into the reason of the skin disease.
The Ayurvedic skin clinic at Astang Ayurveda takes care of your skin as per the Ayurvedic skin care protocol. The Ayurvedic skin doctor gives proper guidelines about the food habit (diet), life style and behavioral practice.
It is important to find out the reason, the pathogenesis, the treatment and the prevention.
Click Here For Diet Nutrition
Take appointment, get the best skin treatment from Doctor Ambika Prasad Nayak, Ayurvedic skin specialist.
Related quick view:
You can Contact our Astang Ayurved hospital at Bhubaneswar, India 751020 phone @ 07008176012, 09437055021, 0674-2352797 or email to @ drapnayak@gmail.com, info@astangayurveda.com.
Treatment of psoriasis, vitiligo, eczema, dermatitis, ayurvedic skin care in bhubaneswar, ayurveda panchakarma, Skin disease treatment, ayurvedic medicine, diet and nutrition, allergy, skin clinic, skin specialist, dermatologist, skin cream, skin disorders. Ayurvedic Skin Care