Ayurvedic Doctor in Bhubaneswar, India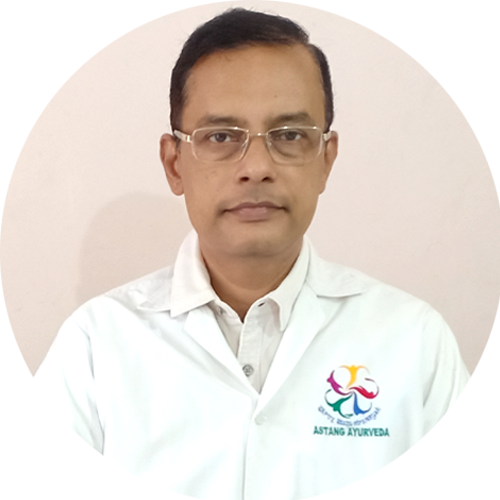 Dr Ambika Prasad Nayak does the practice of Ayurveda Panchakarma treatment at Astang Ayurveda since 2000. He is a leading Ayurvedic doctor in Bhubaneswar. He is the best for joint care, skin care and Neuro care.
Dr Ambika Prasada Nayak, did his study in Ayurveda at Gopabandhu Ayurveda Mahavidyalay, Puri. He underwent training with Dr Radhakant Mishra the Great.
Under Dr Nayak's supervision, there runs an Ayurvedic clinic at Bhubaneswar.
This clinic is the out patient department of Astang Ayurveda, the best ayurvedic hospital in Bhubaneswar, Odisha.
Dr Nayak's expertization in Joint care, Skin care and Neuro care has added colour to the Ayurvedic hospitals and Ayurvedic doctors in Odisha. Numbers of Ayurvedic doctors learnt Ayurveda Panchakarma treatment at Astang Ayurveda, Bhubaneswar and help patients at different ayurvedic clinics and Ayurveda hospitals in Odisha. Now Ayurvedic treatment for rheumatism, arthritis, osteoarthritis, Low Back Pain, PIVD, Spondylitis, Psoriasis are available in Bhubaneswar.
Dr Ambika Prasad Nayak is the most favourite choice of all Ayurvedic doctors in Bhubaneswar and Odisha.
Avail ayurvedic treatment for servical spondylitis , low back pain, PIVD, motor Neuron Disease , Parkinson disease, paralysis(CVA), brain atrophy, ulcerative colitis, piles, acid peptic disease, sciatica, diabetes, migraine, sinusitis, fistula, hair loss, psoriasis, eczema, vitilgo, knee joint pain, osteoarthritis, rheumatoid arthritis, glaucoma, diabetic retinopathy, myopia, retinitis pigmentosa, cataract, bronchial asthma and ayurveda panchakarma treatment.
Ayurvedic Doctor in Bhubaneswar
Ayurvedic doctor in Bhubaneswar or an Ayurvedic doctor India do
have the minimum qualification of B. A. M. S. degree awarded by the Ayurvedic council, Government of Odisha. Students passed 12th class in science with biology as a mandatory subject are allowed to get admitted into the Ayurveda college. The ayurveda college is attached with Ayurvedic hospital with outdoor and indoor facility.
After doing the graduation an Ayurveda doctor can run his Ayurveda clinic, Ayurveda Panchakarma hospital. Or else he can go for post graduation studies or government service.
Ayurvedic doctors in Bhubaneswar and also in Odisha practice the management of all diseases. We understand there should be a division of specialization of subject matters. Dr Ambika Prasad Nayak is a great advocate of specialist Ayurvedic doctor and  specialized specialized Ayurvedic treatment.
At Astang Ayurveda, Bhubaneswar we provide specialized Ayurved Panchakarma treatment for Rheumatoid Arthritis, Spondylitis, Sciatica, Motor Neuron Disease (MND), PIVD, Parkinson's disease, Psoriasis, Vitiligo, Eczema etc.
You can Contact our Astang Ayurved hospital at Bhubaneswar, India 751020 phone @ 07008176012, 09437055021, 0674-2352797 or email to @ drapnayak@gmail.com, info@astangayurveda.com.
Ayurvedic Doctor in Bhubaneswar, Best Ayurvedic doctor India