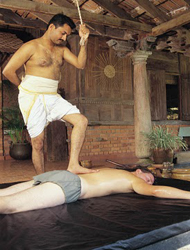 Pancha Karma treatment means five treatments those include Vaman, Virechan, Anuvasan Basti, Asthapan Basti and Nasya Karma associated with many other ancillary treatments. All these treatments look very simple. Of course, they are simple as they are achieved through the natural path. Obviously they are practiced in many Ayurvedic hospitals. But point to be noted: it is not important just, to perform Panchakarma, it is important to eliminate toxin, cure disease, not to create another disease or complication and perform Pancha Karma with proper traditional and scientific guidelines.
Padaghat Massage of the body with the help of the feet is called padaghat. This massage exerts maximum pressure on the body. It is a reverse massage by feet only. This is achieved after the application of oil on head and body and rigorous exercise. It makes the body tough and enhances immunity power. Now a day it is mostly practiced as a preventive therapy.
You can Contact our Astang Ayurved hospital at Bhubaneswar, India 751020 phone @ 07008176012, 09437055021, 0674-2352797 or email to @ drapnayak@gmail.com, info@astangayurveda.com.