Pancha Karma treatment means five treatments those include Vaman, Virechan, Anuvasan Vasti, Asthapan Vasti and Nasya Karma associated with many other ancillary treatments. All these treatments look very simple. Of course they are simple as they are achieved through the natural path. Obviously they are practiced in many Ayurvedic hospitals. But point to be noted: it is not important just, to perform pancha karma, it is important to eliminate toxin, cure disease, not to create another disease or complication and perform pancha Karma with proper traditional and scientific guidelines.
Kati Basti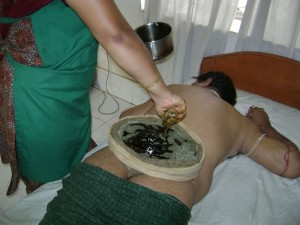 Kati Basti is a local treatment for the management of Low back ache, Lumbar spondylitis, Prolapsed Inter Vertebral Disc, PIVD. Kati means the waist line. Basti means a bladder like container. Kati Basti is meant to contain some medicated fluid onthe lumbar spine.
Actually, the vertebral column is a group of vertebrae. The spine is not a single bone. The vertebrae are aligned with the support of the muscles, ligaments and the tendons. A minimal pressure on the spine may cause damage to the disc or spine or spinal chord. It may lead to spondylitis, PIVD, sciatica, myelopathy etc. Due to this reason it is not possible give intensive massage to the spine. Instead of conducting massage it is advised to keep medicated oil over the spine at the lumbar spine level.
There is no such major contraindication for Kati Basti. Kati Basti is indicated in all age group of patients. Normally Kati basti is practiced in the after noon with medicated oil. Warmoil pacifies the vata dosha. Vata dosh is related to the neuro pathy.
Written By:  Dr A P Nayak
You can Contact our Astang Ayurved hospital at Bhubaneswar, India 751020 phone @ 07008176012, 09437055021, 0674-2352797 or email to @ drapnayak@gmail.com, info@astangayurveda.com.