A CASE STUDY
What is CSR?
CSR or Central Serous Chorioretinopathy is an idiopathic disorder that typically affects one eye of a young or middle age person. This is non cystoid type of macular edema. It is the serous detachment of the sensory retina at macula from RPE due to secondary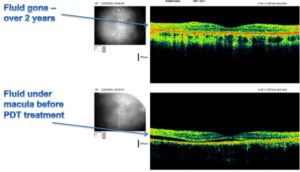 leakages from choriocapillaries. Symptoms include unilateral blurring of vision, Metamorphosia (distorted vision), micropsia(seeing objects smaller than normal) and mild dyschromatopsia (difficulty in color differentiation). Independent risk factors include steroid use, Cushings syndrome, H.Pylori infection, pregnancy, psychological stress and sleep apnoea syndrome.
What Happens in CSR?
Spontaneous resolution within 3-6 months with return to near normal or normal vision. (80% cases)
 Recurrence is seen in up to 50%
Prolong detachment is associated with gradual photoreceptor and RPE degeneration and permanently reduced vision
Multiple recurrent attacks may give similar effect.
WHAT AYURVEDA SAYS ABOUT CSR
It can be correlated with Dhoomadarshi, an eye disease described under 12 Dristigata vyadhi by Sushruta. Bahyapatalagata dosha (the disease Dhumadarshi affects outer layers of retina).
Also read CSR Ayurvedic treatment
CAUSES OF DHOOMADARSHI ACCORDING TO AYURVEDA
The person suffering from Dhumadarshi gets smoky and blurred vision due to
Psychological factors like sorrows and grief
Physical diseases like fever
Excessive fatigue due to physical or mental strain
Diseases of head
Written by   : 
Dr Prasanta Kumar Sahoo. M.S (Ay) Shalakya Tantra (Netrarog)