Prof. Dr. Subhash Ranade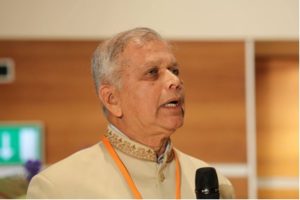 Prof. Dr. Subhash Ranade is one of the foremost experts on Ayurveda. He is the chairman of International Academy of Ayurved in Pune, India. (www.ayurved-int.com) and Director, International Maharishi Ayurveda Foundation, USA.He is leading academician and physician in the field of Ayurveda. He is the author of 168 books on Ayurveda and Yoga. These books have been published in Marathi, Hindi, Malayalam, and 12 other languages like -English, Spanish, French, Czechoslovakian, German, Italian, Hungarian, Polish, Portuguese, Japanese, Korean, and Russian languages.
He has worked as Prof. and Head, Dept. of Interdisciplinary School of Ayurveda and Prof. and Head, Dept. of Ayurveda Pune University and Principal of Ashtang Ayurveda College, Pune, India.Worked as Guide for M.D. and Ph.D. students in Pune University. Also worked as referee for Ph.D. students in BHU
Worked in Kayachikitsa and Nidan Dept. in Seth Tarachand Ramnath Charitable Hospital for 22 years. Also worked as Superintendent in Charity Hospital of Ashtang Ayurveda College for 10 years.
Professor Subhash Ranade has given many television interviews on Ayurveda, not only in India (Arogya Sampada (Marathi), Niramaya arogya (Marathi), Apaka Swasthya (Hindi) but also in USA, Poland, Italy, Germany, Brazil, Greece, Romania and Chile as well.
He has also attended many International and National seminars on Ayurveda and Yoga. He has written hundreds of articles on Ayurveda and Yoga in various magazines and newspapers. He is consulting editor of various health magazines in India and Abroad like Light on Ayurveda Journal, USA; JREIM, India and several others.
He has contributed for the first CDROM on Ayurveda which was published by Saffrounsoul.com by the name Dhanvantari. He is also author of several e books on Ayurveda. (www.ayurveda-foryou.com)
He has received following awards–
1. Gold Medal from Ayurveda Academy, Vijayawada, A.P. March 2000
2. Life Time Achievement Award Ayurveda college, Akurdi, Pune, March 2001
3.International Dhanvantari Award from European Ayurveda Academy- Sydney, Australia, April 2009
4.International Dhanvantari Award from AAPNA – Pennsylvania, USA, Nov. 2009 (http://aapna.org/community/awards)
5. Life Time Achievement Award – Sangamner Ayurveda College, 2013
6. Best Ayurvedic Physician award -from World Movement for Yoga and Ayurveda of Institute of Sakura Take Kan in Spain. (www.ayurvedakarmayoga.com)
7. Life Time Achievement Award- Rashtirya Shikshan Mandal, Pune, Feb. 2014
8. Life Time Achievement Award- Spirit and Nature, Ojai, California June 2014
9. Pt. Shiv Sharma Oration and Award, IASTAM, Feb. 2015, Jamnagar
10. Fellow of National University of Ayurveda (RAV) Delhi, May 2017
He has the honor of being visiting Professor to many Institutes in the United States like Kerala Ayurveda Academy Seattle, Foster city and Dancing Shiva, Ojai; USA; SEVA Academy, Munich, Germany; SKA Ayurveda, Milan, Italy; International School of Ayurvedic Culture, Barcelona, Spain; Ayurveda International Diffusing Association, Hiroshima, Japan; Ayurveda Prema, Post Graduate Institute, Buenos Aires, Argentina; Medicina traditional AkiSinta Saude, Lisbon, Portugal; Israeli Center of Ayurveda, Broshim Campus, Tel Aviv and Shuddha Dharma Mandal, Sao Paulo, Brazil.
Since 1981, he has visited all Five Continents and more than 70 countries and has conducted hundreds of Ayurveda courses for medical practitioners, Para medicals as well as for common people in Canada, USA, Brazil, Argentina, Chile, Germany, Italy, Swiss, Portugal and Japan.
He was also appointed as Visitors Nominee at Banaras Hindu University by President of India for 3 years.
As the Chairman of International Academy of Ayurveda, he has the honor of organizing and participating in National conferences on various topics in Ayurveda –
1. Scope for Practicing Ayurveda Abroad, Pune (29 th Jan. 2006),
2.Hair and Skin Care, Pune (7 th March 2010 and 22 Aug. 2010),
3.Preventive cardiology, Sangamner (2 nd Jan. 2011),
4.Respiratory disorders, Kodoli, Kolhapur (7 th August 2011),
5.Career opportunities for BAMS graduates, Pune (25 th Sept. 2011), 6.International conference on Ayurveda at Dubai (22 Sept. 2011)
7. He was President of World Conference on Ayu, which was held at Pune from January 4 to 8 th / 2012. (http://europepmc.org/articles/PMC3131767). The conference was attended by 110 delegates from 20 countries and 1200 Ayurvedic Physicians from India. (www.ayurworld.org)
8. International conference on Ayurveda at Malaysia (5 th August 2012) and
9. International Rajayucon conference at Rajkot (22 Feb. 2012) as Chief Patron.
10. Dubai Ayucon on January 4 th and 5 th / 2014
11. President, International Ayurveda Conference, Roermond, The Nederland, April 2015 (www.internatiobalayurvedaconference.com)
12. President, Second International Ayurveda Conference, London, April 2017 (www.internatiobalayurvedaconference.com)
13. MAICE – Dubai, 19 and 20 th, May 2017 (http://www.pharmabiz.com/NewsDetails.aspx?aid=101328&sid=1)
TanMan Ayurvediac Research Center – He is working as consultant in this project near Bhukum, on Pune-Mulshi Road.
Contact Address –
Rajbharati, 367 Uday Society, Golvalkar Guruji Path, Sahakar Nagar 1
Pune, 411009, MS, India
Mobile – 9075005367
E Mail ID – sbranade@hotmail.com